New releases
See all of ANIMO's new releases, buy online and listen now.
Requiem by Tara Guram
A beautiful and heartfelt piece composed by Tara Guram in 2019/20 for Animo.
Released Jul 2021
Ex Arcadia
A contemporary piece full of lyricism and energy, written by Joseph Howard, commissioned by Animo in 2019. It is a two-movement piece in which the pastoral first section flows effortlessly into a more pulsing second part until it all dissipates.
Written for acoustic Alto+Concert Flute and Piano against an electronic, pre-recorded, multilayered soundscape. An absolutely fabulous piece!
Released Jun 2021
The Journey of Alan Kurdi by Lukas Piel, commissioned by Animo
Commissioned in 2019/20, Lukas Piel wrote a 7-minute cinematic piece for us scored for flute, piano and electronic soundscape. Lukas's piece is powerful in emotion and layers. He has created a soundscape that tells the story of Alan Kurdi which resonates with the world battling the current pandemic (2020) as we are all looking for 'The road Home'. Animo, we, love the piece from the first to the last note and this recording was created under Covid conditions in our outdoor/indoor studio. Recorded by Adam Bertenshaw in August 2020.
Released Dec 2020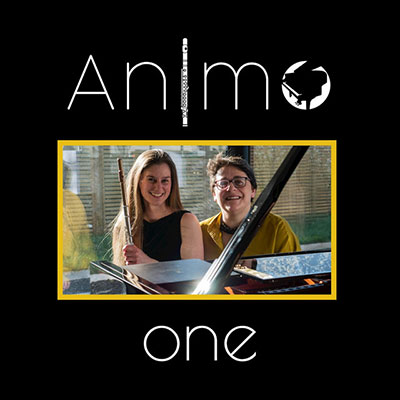 Animo One
Released Oct 2019