About Animo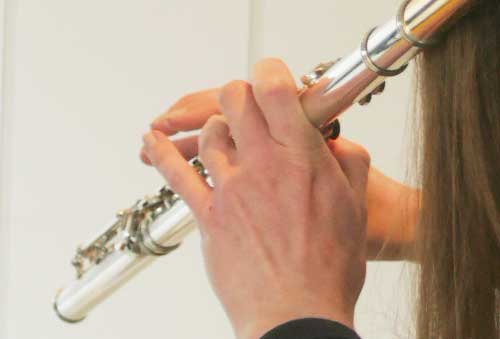 Sarah Waycott – flute
Sarah is a UK-based versatile flautist, cellist, conductor and music teacher with experience in performing a wide range of musical styles.
A graduate of Bath Spa University with a BMus (Hons), Sarah studied flute with Richard Dobson and cello with Ruth Zagni. Postgraduate Diploma in Performance from the Welsh College of Music and Drama where she studied with Philippa Russell, Jonathan Burgess and piccolo with Nic Dowton. Sarah has studied with Susan Milan and worked in Masterclasses with prominent flautists such as Graham Mayger, Stephano Parrino, Karen Jones, Ian Clarke, Sarah Newbold and Philippa Davies.
Choral conducting is where she can share her love of a diverse range of music with several local community choirs. As a peripatetic teacher she puts great value in supporting all her students to achieve their full potential and succeed in their music examinations.
Sarah has performed with various orchestras and ensembles, most notably 'Tranquillo' with pianist Hannah Mitchell and 'Duel' with harpist Jemima Philips. As a soloist she has given concerts extensively in the UK and abroad. Among her most notable performances, Sarah has performed at St Martin in the Fields, for the Countess of Wessex, she appeared in an advert for Sky Television and performed at the premiere of 'Pictures', a Thursday film production starring Andrea Corr and Neil Pearson. Earlier in her career she had the opportunity to teach and perform in Kampala, Uganda, a life-changing experience.
An eclectic musician, Sarah studied Jazz, World music and Baroque instruments (Flute, Viol and Viola da Gamba). On the other end of the spectrum, Sarah enjoys experimenting with electronics to layer and manipulate the sound of the flute and create new textures to her sound.
Always looking for new musical avenues she was a founding member of the 'ELO Again Tribute Band' and as their lead cellist she performed in sell-out venues in the UK and Europe.
Sarah has fundraised for many causes by running marathons, climbing mountains, giving concerts and completing tough long-distance treks. Through 'Nicky's giving fund' a charity in memory of her sister Nicky, she and her family support young people with disabilities to fulfil their dreams, whatever they may be.
'Animo' is her latest venture and together with Yanna they hope to bring contemporary music to a new audience.
Sarah's website can be found at www.sarahwaycott.com/
Yanna Zissiadou - piano
Yanna is a Greek-born concert pianist, accompanist and conductor with many years of experience as a music educator.
Yanna's upbringing helped shape her eclectic taste in music: from Classical to Pop and Baroque to Jazz, Musicals and 'Rebetika', Operas and Folk music from Pontos (her family's ancestry), Yanna's distinctive style is inclusive and without any preconceptions.
The recipient of one of the 'Dimitri Sgouros Prize and Scholarship', Yanna graduated from the New Conservatory of Thessaloniki, Greece and went on to continue her studies at the Royal Academy of Music in London where she studied piano with Hamish Milne, conducting with Denise Ham and chamber music with Malcolm Martineau. She graduated from the Royal Academy with the 'Diploma of Advanced Studies' and the 'Cipriani Potter exhibition prize and scholarship'. Yanna continued her postgraduate studies with a Master's in 'Piano Performance and Literature' at the Eastman School of Music, U.S.A. where she was taught by Jeffrey Kahane and worked in regular masterclasses with Malcolm Bilson on 18th and 19th century music.
Yanna's music education ideology is inclusive and formed as a result of a year's internship whilst at the Montessori School of Rochester in the U.S.A; an experience she would frequently refer to when teaching privately or in a classroom.
Yanna spent 10 years performing as a concert pianist performing solo, in ensembles and with orchestras mainly in Greece, the U.S.A., Germany and the UK. An experienced accompanist and founder of 5 chamber music groups, Yanna has played with a variety of orchestral instrumentalists, choirs and vocalists and as a répétiteur for amateur and professional Opera and Theatre companies.
Since leaving classroom teaching in 2016, she took the decision to reignite her solo career only this time using online platforms. Her ambition is to record some of the most evocative and spirited Greek piano music as well as contemporary piano solos written by new composers, in her newly created Eden's Hill home Studio (used by Animo as their rehearsal base).
Yanna's website can be found at www.yannapiano.com
Animo: Sarah and Yanna created 'Animo' forging a duo with a shared desire to create music without any restrictions, labels or rules, always deferring to each other's opinion to shape each piece uniquely. The aim is to get away from 'leading and following' but rather organically find a common sound.
It was both their idea to make 'Animo' their new venture. 'Animo' is about performing new, challenging, soulful music that can be enjoyed by everyone.
KORES TRIO: Sarah and Yanna have teamed-up with the amazing Soprano Wendy Nieper to form KORES TRIO in 2021. Just like Animo, KORES TRIO is all about soulful, challenging, unusual and fun music. Their first adventure was to arrange Astor Piazzolla's Tangos (thank you Wendy!) which transformed the way they approached all music since!