Well, this was a marathon from Monday 3rd September, almost straight after our residential had finished, until Wednesday 4th September.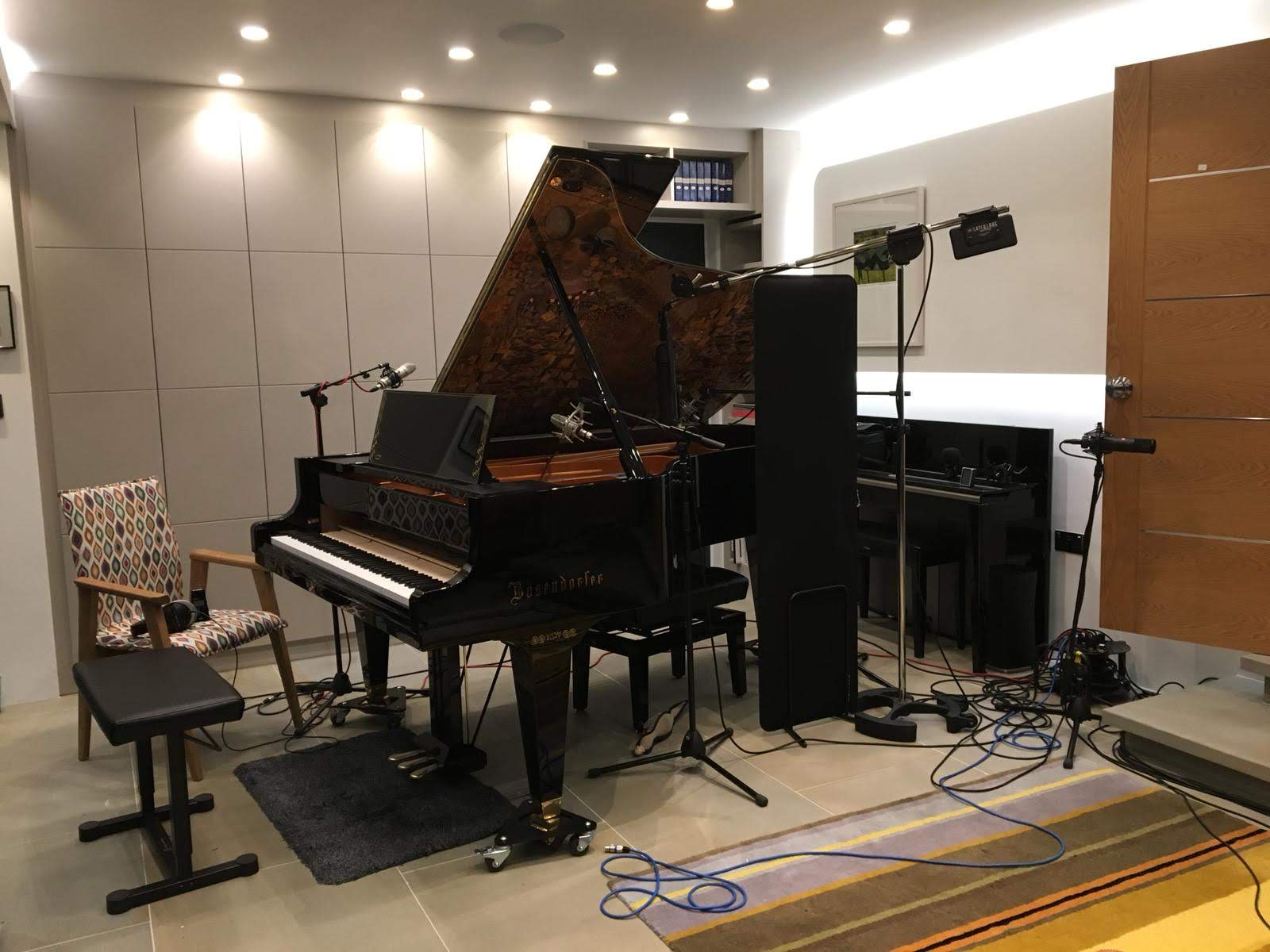 My piano room was once again adorned with pretty multi-coloured xlr cables and mic stands, Adam's, now, new favourite mic (a gift to myself) the AEA R88 MK2 and many more of his own mics all placed perfectly, acoustic panels, cushions and fabrics draped against the glass doors, my favourite wool pouffe shielding the piano's low range against Sarah's beautiful tone, the sitting room made into an efficient sound engineer's booth and we had 'Oh so much fun' - and, on day 2, 'Oh so many frustrations'!
Joe Howard joined us on Sunday evening and after team bonding pizza experience in Ledbury's Horseshoe Inn (by far the best pizza anywhere) we went to bed only of a few hours before starting work at 8 a.m. After our relentless residential we felt a bit under the weather. Sarah was nursing a chest infection, both our dogs had to visit the veterinary hospital when we were away and both Sarah and I were quite exhausted by the time we got to Monday morning. But all this was about to change...
Monday was 'Joe Howard day' and after a team-breakfast we started recording the pre-recorded material. Joe didn't give much away: a true clinician he only nodded and gave exact instructions and the occasional 'this should be OK' so we really struggled to find out what was on his mind. It's a learning process for all of us. Adam and Joe worked for quite a long time trying to edit and load all the material so that Joe can go on to the second stage of the composition: the manipulation of the pre-recorded material. There are 3 elements to this amazing composition:
the live parts which Sarah and I will perform
the pre-recorded material which we recorded
the manipulated/transformed pre-recorded material which we hope to have in our hands soon so we can start practising with it. We are absolutely thrilled to have this challenge at the start of our Animo career. Thank you Joe!
Tuesday was Animo day. It started early and I think we were very ambitious with our programme. 10 pieces to record by 5 p.m. Well... that didn't happen but we got all our frustrations out "I don't know what to do with this section", "what note is that and what beat am I supposed to play this in?" "can I do this again?" "and again?" "I don't remember this piece needing three hands?!" "oops, there are no e flats in this section" "why do I always slow down before the 1st beat?" "I can't play this!!!" "now I can play this but I can't play that!!" "are we going to record anything at all?"... and on it went. Adam was a brilliant source of calm energy:)
Elen, one of Sarah's ex-students, turned pages for me (very grateful) and, as always, having one more person in the room spells a recipe for distraction! Jack (our expert film/photographer) joined us for some of the day too. He worked hard to get as much footage as possible but his piano close-ups were really unnerving!
We shared food (as always) and walked the dog just for a chance to get some fresh air but 11 hours of recording took its toll and we called it a night hoping that the next day it will all come together.
Wednesday was 'absolute joy day'! We started later and pretty much recorded each piece straightaway. We decided to postpone the bigger repertoire for a future date when we make ANIMO TWO. We discovered so much about our playing just by listening to the recordings and working through our difficulties. It is astonishing how critical we are of ourselves and how much our inner judge can, sometimes, stand in the way of making progress. If we let go we create better music and our soul can soar. We absolutely love the quality of the recording (even at its raw state) and the fact that our music has started to flow and breathe with us.
We are now looking forward to Adam's rough mix so we can start choosing the final tracks for ANIMO ONE and create our first CD.
Photos, Audio and Videos will go online soon. If you have been invited or had a chance to get a free ticket to our October 24th launch at Gloucester Blackfriars, I can guarantee you that it will be a concert to remember. We think that after a week's worth of intense playing together we have found Animo's soul... (get it?).
Next week we are performing an open rehearsal at Coach House Pianos - our launch sponsors. It's in Swansea and if any of you are around, we would love to meet you.
Signing off and ready for the next adventure!