I don't know about you but the last couple of months have gone by in a fog. I think that was the fog of coming out of the pandemic or the fact that we are still unsure about whether we can get back to 'normal' life or not.
Animo marched with our projects and we tried to stay motivated and busy. As you may have already seen, we were involved in filming at St George's Bristol which was just a tremendously gratifying experience, followed by days of hard graft getting our Bösendorfer Hall Concert off the ground and in between we had the privilege of working with our amazing composers to discuss the next phase in our commission.
It has been quite hard to collaborate online - although really useful and fun as well. There's not substitute for working side by side but I think we made fantastic progress so far. Really excited to see our pieces taking shape and being so different from each other.
Our work with Supriya started a new era for Animo. The idea is a 3 or 4-part piece based on live improvisation between the three of us, Sarah will be playing either Alto or Bass flute, with a middle section notated. Liberating ourselves from notation is going to be a wonderful opportunity of letting go. We intend to work closely with Surpiya on a different project that will involve Arts Council funding and residential workshops. For now, we have had a wonderful time improvising with Supriya's inspiring and encouraging guidance via Zoom but we are now planning a face-to-face workshop , so we can finalise our commissioned work.
Apollonio is flying ahead with ideas. His background of Hip-Hop, Jazz and Messiaen's Mode 3 merge to create a series of repeated patterns which are a lot of fun to play! Microtones, quick shifts, challenging synchronisation will give us yet another funky piece to add to our collection of tailor-made pieces. If travelling to and from Europe is permissible we hope to meet with Apollonio and spend a day just playing through ideas until something sticks and becomes our piece!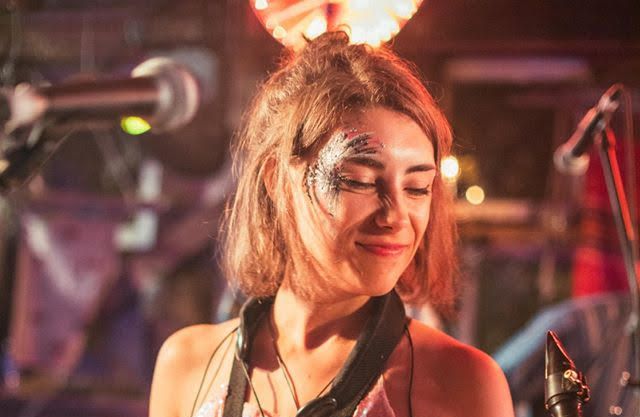 Caitlin introduced us to her latest sketches and they are funky, curious and fun! We have a great first movement and I think Caitlin is very close to completing the composition. We've had a chance to see the progress from fragments, try-outs on instruments and electronics, to full notation and so far we love everything we've seen and played. It doesn't matter if it all changes; that's the beauty of this project. It's a deepening process into the unknown. We hope to meet with Caitlin soon; we are intrigued to try the electronic sounds on the flute as well!
Our latest zoom with Jo was another magical moment where the lyrical sections and 2nd movement are coming alive; Jo is already planning the final movement and we talked about the sounds and structure we had in mind. Ethnic elements, traditional music from the Balkans, strong rhythmic patterns that Sarah and I can share or play against (always fun!), more spacious moments and simple lyrical melodies all tell a story. Jo will come up with something unique I'm sure! We are performing another amazing piece by Jo at our Bösendorfer Hall concert in July 'Tales of the Macabre'. There is another strand to Jo's work which is her electro acoustic music; listen if you can.
Composers write notes and we play them; until that moment, nothing exists. Isn't that magic?
Next week we are visiting the Bösendorfer Hall with Adam Bertenshaw (our sound chef) to check that our Livestream will sound and look amazing but also to see how many people we can fit in the hall always mindful of Covid restrictions. Don't forget that live tickets will be on sale on June 18th! You can, however, purchase your LIVESTREAM TICKETS NOW!