We are turning our focus to our collaboration with our 2021 composers, Apollonio, Caitlin, Jovana and Supriya. Next, we are taking part in 5 or 6 competitions this year all of which have their first round as a link to an online video. Submitting an online video is a result of the pandemic's restriction but a great idea and very practical for all musicians wherever they are in the world! Life has indeed changed dramatically for musicians and I hope that it has allowed many more performers to take part.
For one of those competitions, we are joined by the leading soprano, Jazz singer and former 'Swingle Singer', Wendy Nieper. As a Trio we will enter the Astor Piazzolla competition with Wendy's arrangement of two pieces from the 'History of the Tango' which stay true to the original with the addition of an intricate and agile Swingle-style vocal part. The lovers of Jazz among you will enjoy listening to Wendy sing on this Swingle Track, 'So what' from their album 'Beauty and the Beatbox.'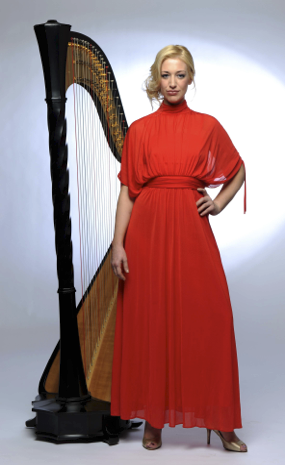 We are planning to share the stage with Wendy and our dear friend Jemima Phillips in future longer live-streams. We will keep you posted as to when and from where (oh yes, more surprises along the way!). You may by aware that Jemima and Sarah form a duo called 'Duel'. Jemima plays acoustic and electronic harp and she was a Royal Harpist and still is a very sought-after versatile harpist - you can see why here!
We are also planning our repertoire for two live concerts, one in London and the other with Martin Bill's Music (Eve Loiseau and Wendy Nieper) at Hellens Manor (which we had to postpone last year due to the pandemic). We will keep you posted with the final details once the organisers feel it is safe to announce.
You may have noticed that I spoke of a new Animo channel on YouTube. It is one of our ambitions to offer our take on flute exam pieces and Sarah will be talking and demonstrating in much more detail how to perform those pieces so that anyone can reach a much higher level of enjoyment and achievement. This will soon be followed by our workshop channel where we share our work with our composers but also with each other as we plough through some of our commissioned works and more ambitious repertoire.
The live-streams were a lifeline for us both and in the early days of livestreaming, they were a way for me to get over a hand injury by playing less demanding piano parts - I am pleased to report that my hand is healing nicely. It was important to us to stay motivated and focused and also keep in touch with you, our audience, and help you unwind during some really tough times. We hope we've achieve that.
When I think back to all the setbacks I can also see how we were not defeated by anything Covid-19 threw our way and we are both still healthy and motivated! I do hope that this 'new normal 'era is coming to an end and a new, brighter, more hopeful world is opening its doors ahead of us...
Just as I am writing this, I am listening to some of the 'ANIMO two' tracks which Adam has just finished mixing. You will be able to buy and listen to them soon and buy them to keep from all online platforms. 'ANIMO two' is, we believe, a pivotal recording for Animo and we hope you can hear that when you listen to all our tracks. They were a labour of love from the start.
Thank you for following our journey and listening to our music. Remember to subscribe to our Blog and follow us on Social media.